We Banjo 3 Call on Athenry Youth Orchestra for Galway Performance
Back in March, Katharine Mac Mághnuis from Athenry Music School got a call from America to ask if Athenry Youth Orchestra would like to perform on the Galway leg of We Banjo 3's Irish tour. Needless to say, they had to think about it…for about 2 seconds!
We Banjo 3 is a band from Galway that plays a blend of traditional Irish, old-time, and bluegrass music they call Celtgrass. The band is composed of two sets of brothers, Enda and Fergal Scahill and Martin and David Howley. Earle Hitchner, music writer for The Wall Street Journal, described their playing as a "freshness and finesse bordering on the magical," and LiveIreland proclaiming them "the hottest group in Irish music." Their debut album Roots of the Banjo Tree was released in 2012 and was named "Traditional Music Album of the Year" by The Irish Times. This was followed by the release of Gather the Good in 2014. In 2016 the band released their fourth album String Theory which debuted at number one on the Billboard Charts.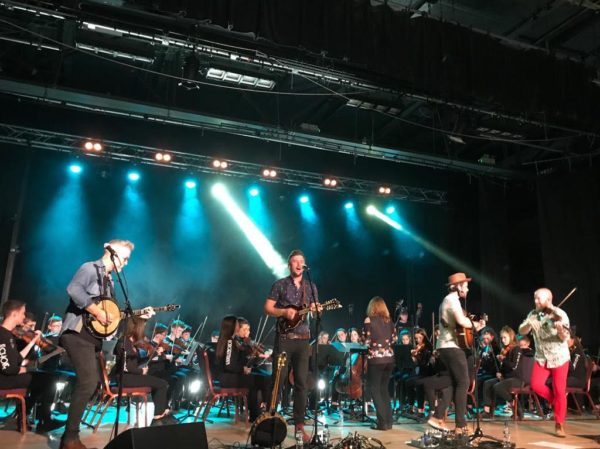 Due to the complexity of the music (not nice keys, multiple metre changes and syncopations), rehearsals commenced in August with a full weekend workshop. After many hours of rehearsal, on the afternoon of 7 September, Athenry Youth Orchestra got to soundcheck, chat and eat pizza with We Banjo 3 and then perform with them on two numbers to a full capacity and highly enthusiastic crowd in Leisureland, Galway.
The members of the orchestra were treated to seats for the rest of the show. However, the seats were used for only two songs and then they all found their dancing feet right at the front of the stage! It was a night to remember for all involved!
You can read more about Athenry Music School and its activities at athenrymusicschool.com.