'A Music Right of Way' Forum to Celebrate the 10th Anniversary of St Agnes' Parents' String Orchestra
Hosted by St Agnes' Community Centre for Music and Arts and the Irish Association of Youth Orchestras, there will be a celebration of the 10th Anniversary of St Agnes' Parents' String Orchestra on Saturday, 22 February and Sunday, 23 February 2020 with a forum entitled 'A Music Right of Way'. Registration is open now.
On Saturday, 22 February 2020 from 9am – 3pm, there will be a round table discussion called 'A Music Right of Way'. This discussion will focus on late starter orchestras, with an international dimension. The round table forum is jointly hosted by IAYO and St Agnes' Community Centre for Music & the Arts.
On Sunday, 23 February, there will be a concert at 4pm in Scoil Úna Naofa hall which will celebrate late starter orchestras and feature St Agnes' Parents' String Orchestra, St Agnes' Musical Society, Crumlin Community Choir and also, orchestra members from other late starter orchestras, from Ireland and abroad are being invited to attend the forum and take part in the concert. St Agnes' CCMA is inviting two players from ten guest orchestras (ten years – ten orchestras) to take part in the forum and concert. There are musicians travelling from England, Scotland, the Netherlands, Spain, USA and of course Ireland to take part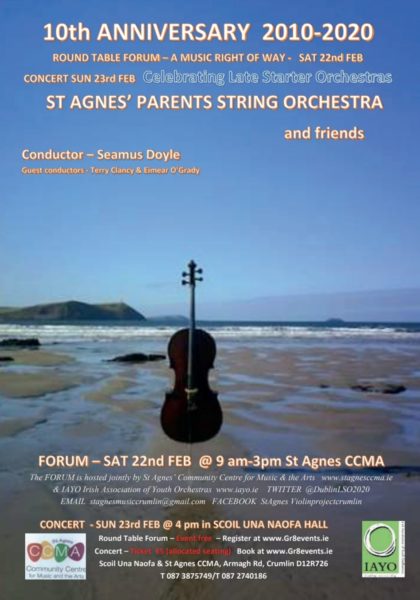 The forum will feature people such as Sr Bernadette Sweeney, Director of St Agnes' CCMA and Seamus Doyle (Principal double bass with the RTÉ Concert Orchestra, Chairman of St Agnes' CCMA and conductor of their Parents' String Orchestra and the Scoil Úna Naofa Orchestra). Discussions will be chaired by Allin Gray (Director of IAYO, Treasurer of the European Orchestra Federation and former board member of the International Music Council), Dr Marie-Louise Bowe (Assistant Professor in Music Education at DCU Institute of Education), Seamus Doyle and Dawn Davin (viola player and pharmacist).
Active participation in creative performing arts is a growing theme around the world. Being part of this discussion is important. Although a small country, Ireland has a good record in musical activity in a range of genres at local levels. This event will have a particular focus on a sector that has been largely neglected – those who did not have the opportunity to become involved in music in their school days. It is a sector which may have been neglected, but which is now developing rapidly.
The following are the first three of the five MUSIC RIGHTS as expressed by the International Music Council for all children and adults:
Right Number One:
To express themselves musically in all freedom.
Right Number Two:
To learn musical languages and skills.
Right Number Three:
To have access to musical involvement through participation, listening, creation and information.
'A Music Right of Way' will look at these rights in relation to late starter orchestras. St Agnes' think of a late starter orchestra as an orchestra where adults of any age may start to learn and to play within an ensemble, who did not have this opportunity, for whatever reason, during their school years.
The old belief was that if you didn't start when you were young, it would be too late. Now the thinking is that it is never too late! A late starter orchestra may also include returners, people who did learn in school, dropped it for decades, and are now rediscovering the excitement of performing with an orchestra and switchers, sometimes those who have learned piano but never learned an orchestral instrument or change instrument.
One of the main aims of the forum is to begin discussion on setting up a late starters network with the objective of exchanging one, two or three players with a very simple model – a sending orchestra pays travel expense, a receiving orchestra provides accommodation, food and local transport, probably with a member of the receiving orchestra.
Participation in the forum on Saturday, 22 February 2020 is free, however, please register your interest here as places are limited.
Admission to the concert on at 4pm on Sunday, 23 February 2020 is €5 and tickets can be purchased at gr8events.ie.