Major Minors Junior Orchestra Fundraising Success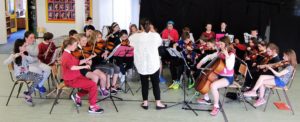 Major Minors Junior Orchestra in Bray was delighted to be able to take part in a Tesco bag pack during the October mid-term.
Fundraising bag-pack slots are like gold-dust in their local Tesco but IAYO alerted its members to this rare opportunity which was organised by the Irish Youth Foundation and they jumped at the chance.
The Irish Youth Foundation had secured a partnership with Tesco Ireland and who had very kindly offered access to all their stores for the weekend of Saturday 3 & Sunday 4 November for a national bag pack. IAYO passed this information on to its members and Major Minors Youth Orchestra secured a spot.
The Major Minor's young musicians were unfortunately too young to help pack bags so they recruited parents and older alumni to help them on the day.
Speaking about the day, Lisa Scanlon of Major Minors Orchestra said:
"The bag pack was a great success – Major Minors raised more than €800 and awareness amongst local Bray people about our community orchestra. Major Minors Junior Orchestra hope to use the funds to add to their instrument bank, buy new music and replace some rickety music stands. Huge thanks to the IAYO and IYF for the opportunity."
For more information about Major Minors Junior Orchestra please visit:
www.facebook.com/majorminorsjuniororchestra/