Laois Music Centre – A New Home for Music in Laois
At the recent IAYO Annual General Meeting, which was held in Portlaoise, we were delighted to see the great facility that is now the home of Laois School of Music and Music Generation Laois. The two organisations have moved into the old Scoil Mhuire primary school building on Church Avenue in Portlaoise which was purchased by Laois County Council to create Laois Music Centre / Ionad Cheol Laoise.
A business plan was presented to Laois County Council by Laois School of Music Ltd, that incorporated input from Music Generation Laois and from the Laois Heritage Officer. It was accepted as a viable project and Laois County Council then purchased the building which is on lease now to Laois School of Music.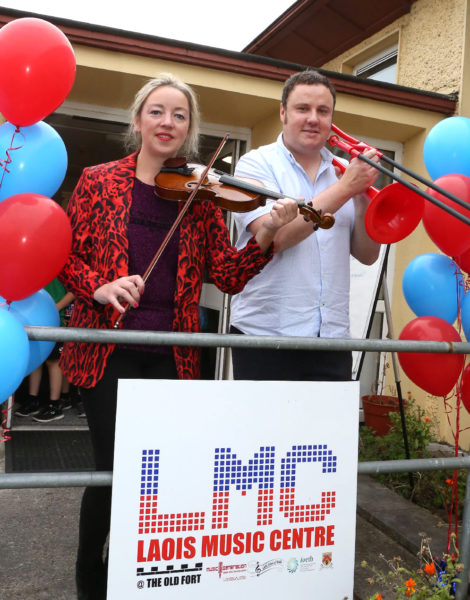 The school building, which has been vacant for a year, was built on the site of the town's 16th-century garrison inside a stone fort whose walls are still largely intact. The Fort Protector was the first English fort in Ireland, built to quell Laois rebellions. Laois Music Centre is a new base to provide music and performing arts education to over 700 young people involved with Music Generation Laois, Laois School of Music and Laois Youth Theatre. Weekly music classes, ensembles, bands and orchestras under Music Generation Laois and Laois School of Music will be housed in the centre as will the Laois Youth Theatre.
The Scoil Mhuire building was purchased for €350,000 as part of Laois County Council's strategy to regenerate Portlaoise town centre and create a cultural quarter that connects up a new library, the Laois Music Centre and the Dunamaise Arts Centre. Long-term aspirations for the centre include a major renovation project to update equipment and instruments in order to create a centre of excellence for music in the Midlands including the introduction of 3rd level opportunities.
Reacting to the news, Music Generation Laois Coordinator Rosa Flannery said: "We are absolutely thrilled to have secured a premises for ourselves and Laois School of Music. Thank you to Laois County Council, Laois Arts Office, Laois & Offaly Education and Training Board. The new home for Music Generation Laois and Laois School of Music will continue to build upon the strong partnership between Laois County Council and Laois Offaly Education and Training Board. It is onwards and upwards for the future of music in Laois!"
Laois School of Music Coordinator Jay Ritchie is delighted with the new premises:
"Having a dedicated premises for tuition and training in music and the arts is such a massive asset to the county and indeed the Midlands as a whole. Laois School of Music, along with Music Generation Laois and the Laois Arts Office are thrilled to be leading this exciting new venture. Running a new building comes with its own set of challenges but having a strong team around us and the continued support of Laois County Council, the Laois Arts Office and the Laois & Offaly Education and Training Board anything is possible. For Rosa and I, it is so rewarding to see young people from Laois and beyond enjoy the facilities, interact with each other and fill the hallways with beautiful music each day! We hope that with the right funding we can transform the school into a state-of-the-art facility and centre of excellence for music & arts training in the Midlands complete with recording studio, music technology sound lab & video production suite along with 10 high-specification music classrooms, each with a piano and interactive teaching capabilities.
We also hope to have a performance space to allow for orchestra and ensemble rehearsals, youth theatre classes, dance and other performance arts programmes. Achieving all of this would create endless possibilities for the centre and allow us to branch out into third level courses along with adult music courses, social inclusion projects and summer arts programmes. I really have to thank the previous Laois School of Music Coordinator, Nuala Kelly, along with Rosa for recognising the need for a permanent home and laying strong foundations, of which I can hopefully build upon. Of course none of this would be possible without Laois County Council, Laois Arts Office and the Laois & Offaly Education and Training Board along with the staff of the Laois County Council Arts Office, our wonderful caretaker, Martin, who is the hardest working man in Laois, our brilliant tutors, amazingly talented students and their parents for continually supporting everything we do!"