Julianstown Youth Orchestra Seeks Collaboration
The junior section of the Julianstown Youth Orchestra (JYO) would love to collaborate with a similar orchestra in 2020.
The Julianstown Youth Orchestra was founded in 2011 by Maria and Fergus Sheil. It now has approximately 100 members from counties Louth Meath and Dublin, organised into junior and senior orchestras.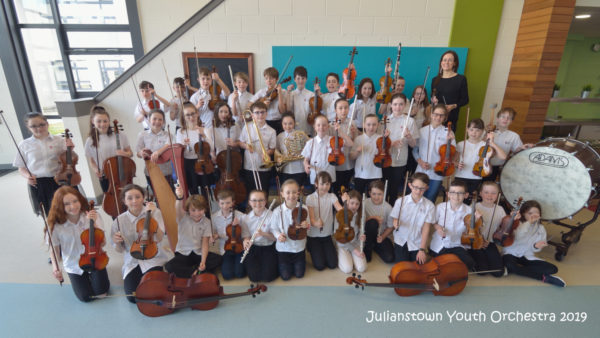 The junior section of over 40 members, consists of mostly primary school children, under the direction of conductor Ailbhe Kirkan. The JYO senior orchestra comprises of over 60 talented young musicians. Together with their conductor and musical director, Fergus Shiel, the senior orchestra has had the opportunity to perform at many prestigious events and concerts, including the National Concert Hall in February 2019 where they received an achievement award from the Irish Association of Youth Orchestras.
There is a wide range of instruments played in both orchestras. The string section has violins, violas, cellos and double base. The wind and brass sections can have flutes, piccolo, oboes, clarinets, bass clarinet, trumpets, French horns, trombones and bassoons. There is also a very exciting percussion section complete with timpani drums, bass drums, snare drums, cymbals and a glockenspiel as well as many other smaller percussion instruments.
Both orchestras enjoy playing a mix of classical and contemporary music.
The junior section of JYO would welcome a collaboration or performance opportunity where they could visit a similar orchestra of primary age children in May 2020. A return visit would also be welcomed. The blossoming musicians of the junior section of JYO are looking forward to making new friends with a shared interest. For further information, please visit www.jyo.ie.
If you are interested or wish to know more, please contact julianstownyouthorchestra@gmail.com