Athenry Music School's Trees For Harmony A Success!
Athenry Music School worked with a number of other organisations on a massive project called Trees for Harmony last Spring. We asked Athenry Music School Director Katharine Mac Mághnuis to write a piece about the project.
Trees for Harmony Project written by Katharine Mac Mághnuis
On the morning of 1 March 2020, Athenry Music School, Esker Children's Music Group and Athenry Tidy Towns joined the Children's Tree Campaign to plant thousands of native trees in Athenry. This was a large logistical project with eight partner organisations including the National Road's Authority, the N6 Concessions and our local bus company, as well as volunteers from the music school and further afield.
Ten thousand trees were donated by Trees on the Land, the area for planting was supervised by the N6 Concessions and free shuttle buses were provided to the three planting sites by Farrell's of Athenry.
The impetus for the project came from a commission by Athenry Music School to investigate climate change. The workshop stage of the commission highlighted that, while our youth were aware of climate action, they felt that control was out of their hands. Alongside that, two of our students set up the Children's Tree Campaign.
The Children's Tree Campaign's incredibly impressive website inspired our director to contact Athenry Tidy Towns, who have a great record in tree planting (our town won the national Tree Award in 2018) and Trees for Harmony was born.
Over 300 volunteers came on the day, with over 8000 trees being successfully planted. The remaining trees were planted during the following week by the local TY students from Clarin College, Athenry.
In the context of the schools closing just 12 days later, we feel incredibly lucky to have got all the trees in the ground. A maintenance operation is now in place to nurture the trees until they are established.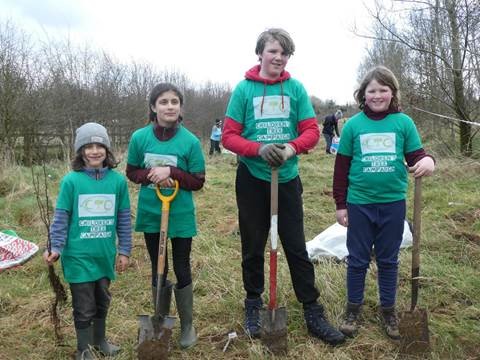 Background information
The Children's Tree Campaign is a new campaign set up by Galway-based children in 2019. It aims to protect Ireland's native trees, and encourage the planting of many more, to help encourage wildlife and biodiversity and help tackle climate change.

In May 2019, the Daíl declared a climate and biodiversity emergency. Scientists have shown that planting trees is one of the most effective ways to tackle climate change. As the saplings grow into full trees, they absorb carbon dioxide – the main climate-changing gas – from the atmosphere. Native trees also support hundreds of species of animals that we need to save. Trees are beautiful, hold and make topsoil, reduce flooding and noise pollution around our homes, slow traffic around schools and help our physical and mental well-being.

We wish to thank all the families, children and community groups who pledged their support, brought their spades and their enthusiasm and planted a forest for our future.
Katharine Mac Mághnuis