A New Home for Athenry Music School
More brilliant news coming from the West of Ireland and Athenry Music School with another dedicated music facility being gratefully opened up in the community.
Athenry Music School was founded in 2005 by Katharine Mac Mághnuis and Helen Farrell and for most of that time, was housed in two local schools. However, in March 2019, that began to change and the search for a new home for Athenry Music School had to begin.
We have asked Katharine to tell us the story of how Athenry Music was able to finally come Home!
"Athenry Music School was founded 15 years ago and for much of its life, it has been happily housed in two local schools. However, March of 2019 saw all Athenry secondary schools (we have three in the community) move location; either to brand new schools or temporary accommodation and the music school found that we were in a housing crisis.
The biggest problem was that the music school had grown much larger than the town had realised and that at a full schedule we were occupying 15 rooms a day which made partnerships with local schools difficult.
This heralded the start of our search for firstly, emergency accommodation to get us through the year and secondly, a concerted effort by the school and community to find us a more permanent solution.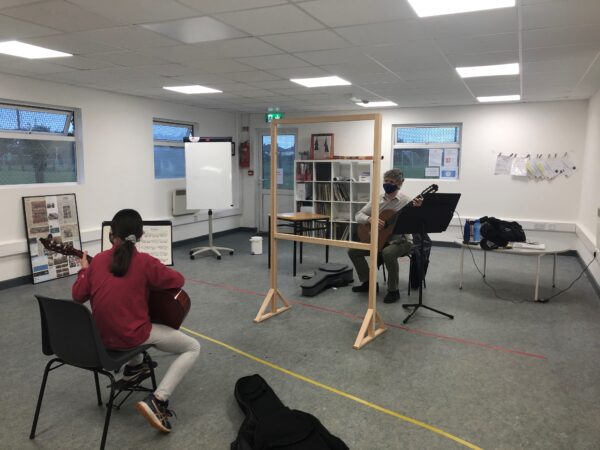 Our premises last year included six distinct locations, spotted through teachers' homes, the local library, an old Montessori school, community council buildings, ETB office spaces and prefabs left unoccupied on old school sites. It was a communication nightmare and a logistical conundrum.
One of the old school sites consisted of a number of prefabs on community council land. These prefabs had been rented by the previous school from a local company and the community council then sought permission (and a mortgage) to buy them with the goal of placing the music school there with a long-term lease.
Two of the prefabs were stand-alone rooms and needed no more than a lick of paint and some TLC. However, the last prefab was a Tardis-like complex of kitchens, toilets and large rooms that were not practical for a music school.
We started paying a holding rent on the large building in January with the intention of fundraising for the renovation costs in April. Little did we know that by April we would be living in an entirely different world.
But, it's only money (and work) and slowly it became apparent that with much support from the people of Athenry and the community council and some begging that we might just pull it out of the bag.
We then started into a saga of waiting for restrictions to lift, the discovery that the entire premises needed to be rewired, the digging of a 43-metre long trench to get internet ducting into the school, the levelling of two tones of stones to create a safe area for fire escape routes and a debacle of 75 fresh keys that didn't work and all the joys that building work brings.
However, throughout the whole process, there was an excitement and sense of coming home that was simply infectious. The electrician donated a weekend to help with the fire routes, the painter worked until midnight to get finished in time and brought his sisters in to help clean and power wash the paths, the faculty and parents all rolled up their sleeves.
We did the final moving; tables and chairs, pianos, double bass, celli, violins, trumpets, clarinets and flutes, 15 years-worth of orchestra folders, cabinets and timpani with all hands on deck on a Saturday and on our opening day we finished the final touches at 1pm. Our first student arrived at 2.30pm and we were home.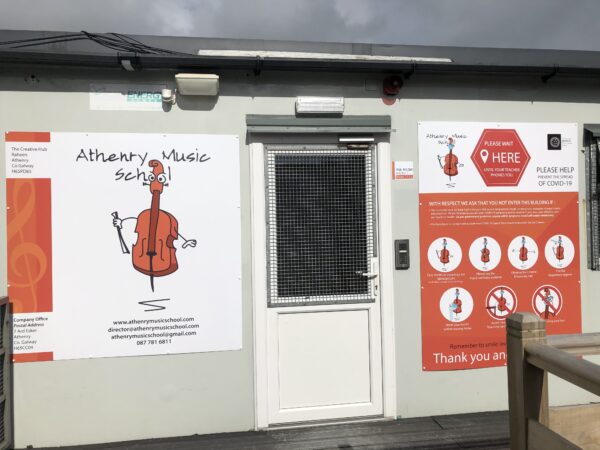 The Covid-proofing of the premises, though daunting in the planning and expense, turned out to be much easier in practice due to our absolute control over our own environment.
Our accommodation, with our positive music school orange doors and grey trim, is wonderful but still does not fully house us all in any week. So, we have devised a bi-weekly rolling schedule (our red and blue teams) alternating face to face with online lessons and this is working very well for our students and teachers. Each family's schedule (all 334 of them!) was considered separately to make sure that all siblings were accommodated within the same team; a multi-dimensional timetabling feat that is probably one of our greatest achievements to date!
The difference in having our own space is immediately apparent. After years of faculty being strewn across Athenry, we have a centre in which we see each other daily and smile, even with our masks on. Students arrive with instruments on their backs like an army of invading turtles. Light fills the rooms and the full-length glass panels in each door allows students a glimpse of prolific music-making as they pass through our corridors on the way to their own lesson. Music fills the air from bright and early with students receiving lessons before their school day to late into the night with our adult students and multi-instrumentalists move from room to room with a relaxed ease that is palpable in the faces of their parents.
Athenry Music School wishes to thank our parents, board of directors, students; past and present, Athenry Community Council and all the professionals involved in the building work. We also wish to thank the GRETB and Galway County Council for their support over the previous 14 years. Now all we need is an orchestra hall and a further 7 rooms but that will be a story for the future. For now, we shall feel grateful and lucky to have our dedicated creative music school and will enjoy it to the full daily."
Thank you to Katharine for sharing her journey with us. It hasn't been easy for them, and there was a huge amount of work involved but their fruits of that are easy to see and the benefits of having a music-dedicated space in the community are numerous.
We would love to see more of these spaces across the country and we want to thank everyone in Athenry Music School, MusicWest in Mayo and those in the Laois Music Centre for leading the way and for sharing their stories with us.
You can read more about MusicWest in Mayo here, and about the Laois Music Centre here and here.