Tutor Opportunity: Trombone / Brass Tutor with Artane School of Music
Artane School of Music is seeking to hire a Trombone / Brass tutor to join their team starting this September.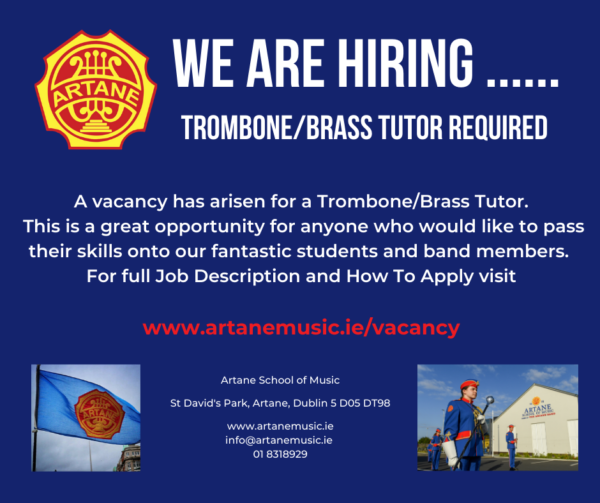 The Ideal Candidate will have:
A proven track record of excellence in trombone/brass tuition;
The ability to work as and when required;
Good English communication skills both spoken and written;
Be legally allowed to work in Ireland;
A positive and amenable approach to their work;
The ability to work well in a team environment and on their own.
The position is ​Permanent​ and ​Part-Time.​ School calendar (9 months, Sept to May). A panel may be formed to fill this position.
A​ typical working week​may comprise 1 afternoon / evening however, it is essential that the candidate will be flexible with the evolving Artane School of Music schedule. This ​may include the provision of additional lessons depending on demand. The candidate will be subject to a 6 month probation period.
Closing date for applications is 9pm, Monday 3 August.
Interested candidates should email a cover letter stating why they are applying for this position and why they believe they are suitable for this role plus a copy of their CV to cora.doyle@artanemusic.ie. Ideally, the candidate must be available to start employment on Monday, 7 September 2020.
For further information and full job description, please see artanemusic.ie.