"MusicLives!", an International Conference on and for Youth and Amateur Orchestras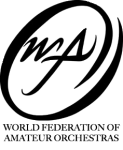 In collaboration with the Norwegian Federation of Youth Orchestras (UNOF), the World Federation of Amateur Orchestras is pleased to announce "MusicLives!", a International Conference on and for Youth and Amateur Orchestras, which coincides with WFAO's General Assembly.
UNOF will be hosting the conference/GA from 2nd – 4th September, 2016 in Oslo.
Conference Schedule
Friday 2 September: Resources and Technology
14:00 – 14:45: Andrew Levine, "What makes a good orchestral recording?"
14:45 – 15:30: Letizia Turini, "An Intern(@)tional Federal Library: facts, figures and outlook for the future"
15:30 – 15:45: coffee break
15:45 – 16:30: Bart Van der Roost, "neoScores Music Sheet Application"
16:30 – 17:00: round table Q&A
Saturday 3 September: Music and Social Studies
9:00 – 9:45: Daniel Kellerhals, "Why Amateur Music Making is Important for the Individual and Society"
9:45 – 10:30: KyungMyung Kim, "The Roll of Music for Social Interest: On the Positive Effect of Music in Group Activities"
10:30 – 10:45: coffee break
10:45 – 11:30: Tommaso Napoli, "Amateur Music-making as Urban Politics"
11:30 – 12:00: round table Q&A: Reaching further
13:00 – 13:45: Duncan Wambugu, "The Development of Instrumental Music in Kenya: The Rise of Youth Orchestras"
13:45 – 14:30: Juri-Ruut Kangur, "The Estonian National Youth Symphony Orchestra: A Case for New Concert Ideas and New Audiences"
14:30 – 15:00: round table Q&A
15:00 – 15:20: coffee break
Member Reports

15:20 – 15:40: Kikuko Morishita, JAO Festival (Japan)
15:40 – 16:00: Jihae Yoon, Gam String Orchestra (Korea)
16:00 – 16:20: Milly Koh, World Civic Orchestra (USA)
16:20 – 16:40: Ilke Boran, Ayvalık International Music Academy (AIMA) (Turkey)
16:40 – 17:00: TBD
The venue for hotel and meeting accommodation is wonderfully situated at «Voksenåsen» Cultural Hotel (www.voksenaasen.no/).
Thanks to special efforts of UNOF, the participation fee for the whole GA/conference could be limited to NOK 3250,- (at today's exchange rate +/- € 350,- or $ 395,-), which is far below the standard rates in Norway.
The complete package includes:
access to all sessions
single rooms in the hotel for three nights (double rooms are available upon request)
all meals
coffee/tea and fruit throughout the day
complete access to all hotel facilities
You can register/subscribe to the conference through the following link http://worldamateurorchestras.com/?p=640
Although the official dates for GA/conference are from the 2nd till the 4th of September, arrival on the 1st of September is recommended
More information can be found on their website.