The Listening Crowd – An International Conference Exploring New Music and Audiences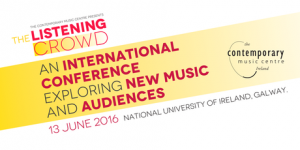 The Contemporary Music Centre, in association with the International Association of Music Information Centres (IAMIC) is proud to present The Listening Crowd , an international conference exploring new music and audiences, which takes place at NUI Galway on 13th June 2016.
The Listening Crowd  is a conference examining why we listen, who is listening and how audiences are engaging across genres and around the world. The conference is for anyone who is immersed in music: as an audience member, composer/creator, performer, programmer, lecturer/musicologist, promoter, broadcaster, and those who connect through music.
The full conference programme of presentations and panel discussions includes an acclaimed list of national and international speakers from a wide range of artistic backgrounds, and aims to stimulate discussion and debate around the relationship between new music and audiences.
Book now at: listeningcrowd.eventbrite.ie