Italian Under-Secretary for Cultural Heritage Ilaria Borletti Buitoni joins EUYO Trustees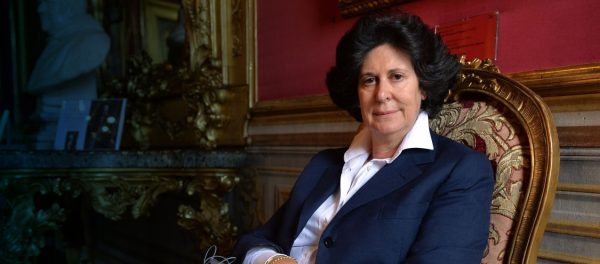 The European Union Youth Orchestra is delighted to welcome Ilaria Borletti Buitoni as its newest Trustee. Ms Borletti Buitoni joins Co-Chairmen Ian Stoutzker CBE and Sir John Tusa, Lesley King-Lewis, Anthony Sargent and Martijn Sanders – taking up the position with immediate effect.
Born in Milan, Ms Borletti Buitoni holds a number of international positions on non-profit Boards throughout the humanitarian and cultural sectors. She founded the Borletti-Buitoni Trust in 2003 where she still serves as a Trustee. The Trust helps outstanding young musicians to develop and sustain international careers with awards that fund tailor-made projects. Her experience at the Borletti Buitoni Trust has given her exceptional knowledge and expertise in helping young emerging classical music artists.
Ms Borletti Buitoni has significant entrepreneurial experience, particularly in England where she lived for nearly ten years, first as an Executive Director of a successful media company and later in advanced technology companies. She has collaborated with many national and international charities as Chair or Board member, including a family trust based in England. In 2011 she was appointed President of FAI (the Italian Environment Fund), the largest private institution for the conservation of natural and artistic heritage – founded 35 years ago to mirror the English National Trust model. As the EUYO embarks on the second phase of its international partnership project 'Towards 2020: Skilling Musicians & Engaging Audiences in Europe's Orchestral Sector' Ms Borletti Buitoni's experience of social and cultural entrepreneurship are vital competencies that will enrich the project's implementation and development.
In 1993 Ms Borletti Buitoni founded AMREF Italia, an NGO with 25,000 donors which supports medical and educational programs in East Africa. Simultaneously, as Head of the 'Summit della Solidarietà', Ms Borletti Buitoni lobbied to promote non-profit culture and the simplification and transparency of the donation process. A regular volunteer, Ms Borletti Buitoni spends one month each year working in a Kenyan hospital managed by the Consolata Missionaries of Torino.
In April 2013 Ms Borletti Buitoni was elected to the Italian Parliament and subsequently appointed as Under-Secretary for Cultural Heritage. Sir John Tusa, Co-Chairman of the Trustees of the European Union Youth Orchestra declared, "the Trustees are delighted that Ilaria Borletti Buitoni has agreed to join us. She brings great musical experience and a significant additional European dimension to our membership. She will make a big contribution to the next stages of the development of the Orchestra and what it represents in Europe. We look forward to working with her".
Marshall Marcus, CEO of the European Union Youth Orchestra, adds "Ilaria Borletti Buitoni brings an enviable amalgam of experience and achievement at the highest international levels from the fields of music, culture, media, politics and entrepreneurship. With her selfless dedication to working with young people I am quite sure that she will be a wonderful addition to our Board of Trustees."
Ilaria Borletti Buitoni is delighted to be joining the project, "'Imagine. Create. Share.' The motto of the EU's "Creative Europe" programme finds an ideal ambassador in the EUYO, at a time when a need for the unifying power of music is more compelling than ever, crossing all man-made borders. "From the heart to the heart", as Beethoven augured.