RCO Young Summer Camp – Royal Concertgebouw Orchestra Youth Orchestra
Applications are open for RCO Young Summer Camp, the Royal Concertgebouw Orchestra's international youth orchestra. It consists of young talented European musicians aged between fourteen and seventeen years and reflects the diversity of Europe. This youth orchestra is intended for hidden talent: young musicians who are in need of some extra support and who are currently underrepresented in the European orchestras.
This August will see the second RCO Young Summer Camp taking place from 5 to 22 August 2020 at Akoesticum, the national training centre for music, dance and theatre in Ede, the Netherlands. At the RCO Young summer camp, the young musicians participate in an intensive programme of group practice, orchestra rehearsals, chamber music, coaching sessions and workshops led by professional workshop leaders, and classes given by members of the Royal Concertgebouw Orchestra. At the conclusion of the programme, they will perform in concerts under the direction of a renowned conductor at the Concertgebouw and at the Flagey Concert Hall in Brussels.
Participation is free, and travel and accommodation costs are reimbursed.
Applications for the auditions for the RCO Young summer camp are being accepted until 10 February 2020.
Applicants can apply with standard symphonic instruments: violin, viola, cello, bass, flute, oboe, clarinet, bassoon, horn, trumpet, trombone, bass trombone, tuba, and timpani.
For further information on RCO Young and how to apply, please see their website.
In 2019, two young Irish musicians took part in RCO Young. You can read about their amazing experience here.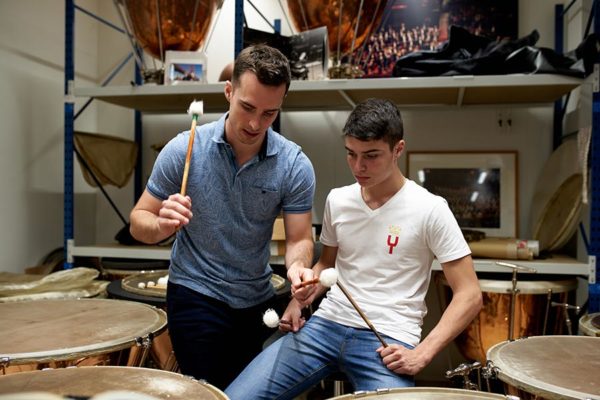 The Royal Concertgebouw Orchestra views the development of top talent as of the utmost importance. In addition to that, with RCO Young the Orchestra aims to stimulate personal development, a strong sense of community and a democratic mindset. A special program will be designed in collaboration with the United World Colleges Nederland. This new youth orchestra will serve as a bridge between society and a top-level cultural institute.
RCO Young is an offshoot of RCO meets Europe, the ambitious tour undertaken by the Royal Concertgebouw Orchestra through all member states of the EU between 2016 and 2018. During this tour the Orchestra played a piece together with a local youth orchestra (Side by Side) in each country which resulted in close ties with young musicians all across Europe. This unique concept will continue to take shape in RCO Young and subsequently resonate through the wider community. The young musicians will become ambassadors, taking the ideas behind RCO Young – talent development, diversity and the connection with society – with them to their respective home countries.