Young Irish Musicians Attend the Royal Concertgebouw Orchestra Young Summer Camp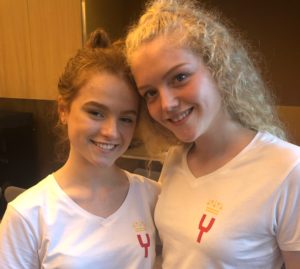 This summer saw the inaugural Royal Concertgebouw Orchestra Young Summer Camp take place in Ede, the Netherlands for two weeks in August. At the RCO Young summer camp, young musicians aged between fourteen and seventeen years participate in an intensive programme of group practice, orchestra rehearsals, chamber music, coaching sessions and workshops led by professional workshop leaders, and classes given by members of the Royal Concertgebouw Orchestra.
Participation is free, including travel and accommodation costs!
In 2019, two young Irish musicians – Aoibhín Keogh Daly, a cello player from Ceol na Mara Orchestra and Eve Quigley, viola player from Young European Strings both pictured above) – were nominated by their tutors and continued with the application process following which, they were invited to attend RCO Young and it sounded like they had an amazing time!
Let's hear from Eve first:
"This year, I was fortunate to take part in the first edition of the Royal Concertgebouw Orchestra Young in the Netherlands. We stayed in the national centre for performing arts called Akoestium in Ede. The Akoestium had amazing facilities, such as a 'climatised' auditorium that was perfect for our many rehearsals.
We started off the course with tutti / full orchestra rehearsal on the first day, running through the entire programme we were going to play; Idyllium by Detlev Glanert, Mendelssohn's Violin Concerto and Tchaikovsky's Symphony No. 5. Following the 'interesting' rehearsal, we partook in sectional rehearsals for the week, going over the challenging excerpts with our section and our tutors. After a week of intense rehearsals, we were given a day off and got to visit either the water park, museum or go adventure around Ede. We spent the entire day at the water park and when we returned, we held an informal concert. A number of us performed works such as the Beethoven Septet and Shostakovich's Duet for Two Cellos and it was a huge success.
The staff from the Royal Concertgebouw Orchestra made sure that our physical and emotional well-being was top priority at all times. We were blessed to have a massage therapist on-site for a couple of days to teach us how to take proper care of our bodies as musicians. The mentors also held 'buddy groups' for us every three days to ensure that we were settled in and enjoying ourselves."
And now, Aoibhín tells us about her time with RCO Young:
"This August I participated in the first edition of RCO Young, a European youth orchestra run by the Royal Concertgebouw Orchestra in Amsterdam.
Its aim is to bring together musicians aged between 14 and 17 from all corners of Europe for an intensive programme of orchestra rehearsals, chamber music and masterclasses given by members of the Concertgebouw orchestra. The application process was by video and as well as playing, you had to speak and give your opinions on certain topics. When I found out I had been accepted I was over the moon as only 8 cellists were taking part and two Irish out of the 27 nationalities, so I felt extremely fortunate to be getting this opportunity.
The course took place in a performing arts training centre outside Amsterdam called the Akoesticum and immediately we were made to feel very much at home by all the staff and mentors. The facilities were fantastic, with lovely spacious bedrooms, and really good food including a barbecue one evening and home-made pizzas.
We rehearsed up to 8 hours a day but it wasn't all work and we had classes in meditation, mixed media, art and much more. At one point during the course we were all given massages, and on our free day, we were taken to a water park and a museum. For the final week, conductor Pablo Heras-Casado arrived to take over the rehearsals and his energy and drive I think gave us an extra boost and we found another level within ourselves as players that we didn't even realise we had! We did five concerts in total, the three orchestral ones were in the Aloesticum, in Flagey Hall in Brussels and one in the Concertgebouw playing Tchaikovsky's Symphony No. 5, Mendelssohn's Violin Concerto in E Minor (the soloist was Julian Rachlin) and a new composition by Detlef Glanert. The other two were chamber music concerts, one of which was in RCO house, that was live-streamed.
The highlight was, without doubt, the Concertgebouw hall. Playing in such a famous venue in that incredible acoustic was thrilling in itself, but to play to 2,000 people with musicians who three weeks previously you hadn't even met, but were now like family to you, was an indescribable experience and one I will never forget.
The hardest part was saying goodbye to everyone, but I know I have made friends for life and we will always stay in touch. I am so grateful to the RCO education programme and the sponsors as the entire course including all flights, activities, etc. were entirely free for participants. I really can't recommend it highly enough and would encourage any musicians to apply for next year's course."
The RCO Young summer camp is intended for hidden talent: young musicians who need some extra support and who are currently underrepresented in the European orchestras and we feel that young Irish musicians would be in with a great chance of being accepted for the 2020 edition.
Concertgebouworkest Young will take place in 2020 from 5 – 22 August.
Applications are now open until 10 February 2020. 
We would appreciate any tutors recommending this amazing orchestral opportunity to any young musicians they feel may be suitable or who would benefit from participation.
For more information on RCO Young and applications, please see concertgebouworkest.nl.