Applications open for NCH Female Conductor Programme
The National Concert Hall, Dublin are calling for applications and nominations for their NCH Female Conductor Programme which encourages women to take the first steps towards becoming an orchestral conductor.
The NCH Female Conductor Programme encourages women to take their first steps towards becoming an orchestral conductor. This programme coaches, mentors, encourages and promotes talented women who are at the outset of their conducting careers.
Applications and nominations are open to classical musicians over the age of 18, who identify as women and who have already reached a high standard as musicians, and who may not previously have considered becoming an orchestral conductor.
Deadline for applications is 11.30pm, 18 June 2019.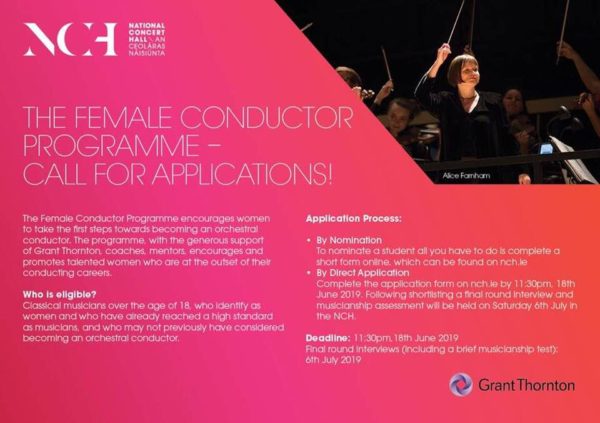 To address inequality on the podium, the National Concert Hall ran an initiative to encourage women to pick up the baton. The position of conductor is one of the most enduring and unyielding glass ceilings for women in the world of classical music. In 2018, out of the top 100 international conductors, only five were women; in 2015, across US orchestras, just one in five conductors were female, and in the 22 highest-budget orchestras, 21 conductors were male, and just one was female.
The National Concert Hall launched the Female Conductor Programme to address and highlight this imbalance, and encourage women in classical music to take up the baton and become orchestral conductors.
For further information and booking forms, please see nch.ie.