DYO Chamber Music Summer Course 2020
The DYO Chamber Music Summer Courses, which have been taking place in idyllic surroundings for more than 30 years, offer a great opportunity to play and perform music in a fun, informal and non-competitive environment. New (and sometimes lifelong) friends are quickly formed in this nurturing atmosphere. Students will experience all that chamber and orchestral music can offer – playing and working together, and rising to new challenges with fantastic results musically. Music tuition is complemented with many less formal musical adventures such as songwriting masterclasses, hip-hop dancing and talent shows! Daily sports, swimming and more traditional summer camp activities make this an action-packed and unforgettable experience.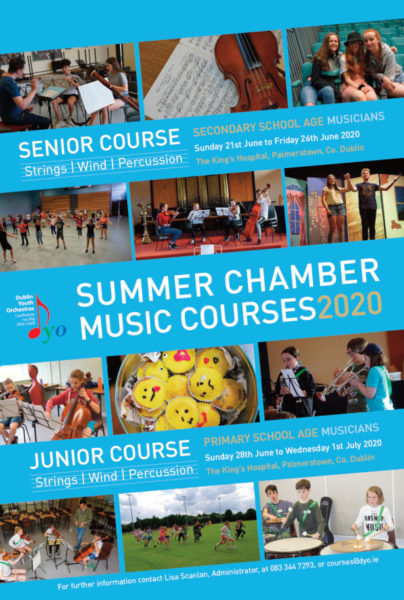 The Senior course is for secondary-school age musicians and runs from Sunday, 21 June to Friday, 26 June 2020.
The Junior course is suitable for musicians from age 9 and runs from Sunday, 28 June to Wednesday, 1 July 2020.
Both courses offer strings, wind and percussion and take place at The King's Hospital School, Palmerstown, Dublin 20. Residential or non-residential options.
Bookings are now open. Further information and an application form are available from the DYO website – www.dyo.ie – or by contacting courses@dyo.ie.
You can also download the booking form with more information here.