Review of a Masterclass with the New York Philharmonic Orchestra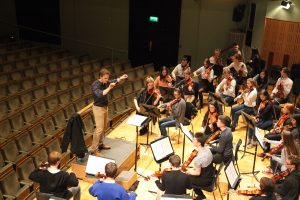 Words by Aisling Donnelly (violin)
When I first received the email informing me of this rare opportunity for the National Youth Orchestra to work with members of the New York Philharmonic Orchestra in a master class I really was taken by surprise. I wasn't sure of what to expect. I had never attended an orchestral master class before let alone participated in one so I was a real newcomer to the entire situation! Perhaps this made the whole experience more exciting for me. One of the things I looked forward to most about the workshop was the string sectional master class with Anna Rabinova. As a violin player, I thought it would be refreshing to gain the experience of working in detail with a professional orchestral violin player. In addition to this, I wasn't very familiar with playing orchestral music by Debussy like La Mer (the sea) so that definitely sparked an interest in me.
We had the sectional master class first. First violins, second violins and violas were together with Anna Rabinova. We practised the 2nd and 3rd movements of La Mer. She was very focused on making the most of the short time we had together which I think inspired everyone to try their best.  Anna imagined 'La Mer' as if it was a painting. She showed us how to play different notes in certain ways in order to best bring out the appropriate colours. We also worked on the finer details of the music like the phrasing, tone and overall shape while simultaneously keeping more basic elements such as the rhythm and pitch under control. Anna reminded us of how we must imagine the sea while playing the piece. It was suggested that we use vibrato and a fast and light bow stroke on trilled and tremolo notes to convey the sound of the waves out at sea. In the third movement there were a few passages which caused a bit of confusion regarding rhythms and odd harmonies, but once we took them apart and practised them slowly, things greatly improved.
After a quick lunch break, we were joined by conductor Courtney Lewis in the main auditorium for the tutti master class. We practised the 3rd movement of La Mer as Mr Lewis thought it best to practise the trickiest movement together seeing as it would require the most work. There definitely were some issues regarding counting in the beginning so the conductor singled-out the sections where there were problems and got them to play by themselves, while paying special attention to the rhythm and getting them to constantly thinking about the main beats of the bar. Mr. Lewis also talked about communicating with the music to get a sense of the mood in order to create an atmosphere which would give overall shape to the piece.
Personally, I think the workshop was a great success. It was fascinating to get an insight into the minds of such accomplished musicians and to see how they all have their own approaches to shaping the music but also fixing different problems which may arise. I think their level of expertise really came across in everything that they suggested and taught us, which really made them an honour to work with. It really was a once in a lifetime opportunity and I wouldn't hesitate to do a similar workshop in the future.