Music Matters and Cork Youth Orchestra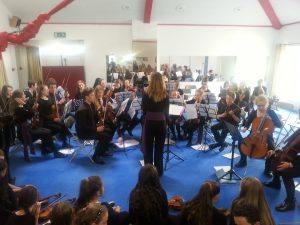 Words: Úna NicLochlain
Early on the morning of Saturday 25th of April, a group of excited young musicians from the CJRO1 orchestra boarded a bus at the Cork School of Music bound for Loughrea, Co. Galway. By 10am, the students and parents of Music Matters in Loughrea had the kettle on and were eagerly awaiting their guests. Within 20mins of their arrival the CJRO1 orchestra had well settled in to their home for the day and the music had started! Between the groups there were over 50 teenagers playing violin, viola, cello, and piano. There was a great buzz and atmosphere as the sheets of music were handed out, the sleeves rolled up and the conductors Áine O'Brien, and Úna NicLochlainn took their places.
The first part of the day consisted of the orchestras being divided up into two 'new' orchestras, where each stand had one member from each orchestra. These new orchestras were challenged with new music they had never seen before and had to perform later that day!
The next challenge was to master another new piece as a large combined orchestra. What a treat it was to see and hear these young musicians play to such a high standard with only a few hours practice with people that earlier that day were complete strangers to them.
Later that afternoon after a substantial feed of pizzas, the musicians took their places for their concert. Parents, siblings, and friends from both groups gathered to form an audience for the deserving youngsters. The orchestras performed for each other pieces from their own previously rehearsed repertoire, as well as playing together all of the material they had learned throughout the day. The students rose to every challenge thrown at them that day, and succeeded delightfully.
It was late in the day when the orchestras went their separate ways, tired yet energised from their efforts. During the hours and hours of playing, friends were made, music was made, and about a hundred cups of tea were made!
Days like these sure are busy but boy are they good for the soul.