European Suzuki Harp Convention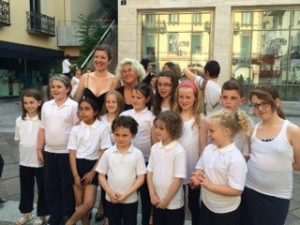 On Thursday 19th of June twelve young harp students, eleven parents and one very enthusiastic harp teacher set off from Athenry Co. Galway for the inaugural European Suzuki Harp Convention. Initiated by Gabriella Bosio and Roberto Bucher of the Musicando Music School, the convention was designed to bring together the community of Suzuki harp teachers and students currently working in Europe.
Travelling with music students is always fun; there were singing practices and 'air harp' rehearsals on the bus, and while waiting in Milan airport for our transfer, the group happened to stand next to two nuns wearing zany head decorations on their wimples. Of course, when one of the nuns whipped out a guitar and started singing "The Saints Go Marching In", everyone just had to join in… and it just so happened that all Athenry Music School members had recently learnt 3-part harmony to that very song, so the students and parents beautifully harmonised with our two new singing friends, much to the delight of the surrounding travellers!
On Friday the convention began with a bang as the Irish students received harps on loan from the organisers. Sponsored by Camac and most generously gifted by Elisa Sargenti and the Musicando Music School, the students were given nine 34-string, fully-levered harps, 2 small fully-levered harps, and 1 30-string unlevered harp. This was a source of great excitement as the majority of these students normally play 26-string, semi-levered, small harps in Ireland. The only discipline 'problem' in the entire weekend was that the students were so taken with their new harps that they wouldn't stop playing them. One Italian word the students grew to know very well was "Silenzio!!"
Friday commenced with a rehearsal directed by Gabriella, where all fifty-five students played through the 13 pieces that they had been preparing for months. It culminated in a solo concert, where the Irish students were represented by the following students and repertoire:
Eva Moran – French Folk Song
Briain Mac Thomáis – Brian Boru's March
Alannah Nic Suibhne – Falling Slowly
Eva Griesbach – Frances Power
Calia Creegan – Tá 'n Coileach ag Fógairt an Lae
Saturday was a full rehearsal day. That afternoon, the students were treated to a joint rehearsal with the excellent international children's orchestra "United Kids of Music". Based in Varese, Italy, this orchestra has played in Milan, Venice, Rome, New York, London, and Geneva. They are notable not just for their high technical standard and diverse repertoire, but for the very real joy and spirit with which their playing is infused. After a dually inspiring and challenging rehearsal, all students congregated in the beautiful small church 'Chiesa Evangelica Riformata' for their concert. Beginning with "Toy Soldiers", Briain Mac Thomáis, Cora nic Suibhne, Calia Creegan, Colm Mac Suibhne and Eva Moran represented the Irish contingent to great acclaim, performing along with the full convention harp ensemble and "UKM" orchestra. Then Erin Mooney, Hazel Stratford, Sinéad ní Laighin, Eva Griesbach, Calia Creegan, and Alannah nic Suibhne took over the harpistic helm for "Grand Canon", doing us proud! Subsequently Erin, Hazel, Sinéad, Eva Griesbach, Calia and Alannah were joined by Colm for "Ground in F with Variations" by Purcell. The first half ended with a solo by 13-year-old Giula Mazzotta on pedal harp, playing the first movement of Handel's harp concerto. This excellent young musician played with verve and sensitivity, and appropriately got a standing ovation of rapturous applause. All the Irish students were extremely impressed by her performance. There was just time for a brief moment of high fives and congratulations to all the young Irish musicians on their achievement from their teacher Úna before the UKM orchestra took to the floor for the second half, which was a hugely enjoyable programme of music from Bach, Sibelius, Israel, Portugal, and Ireland.
Sunday was another full rehearsal day, culminating with a harp ensemble concert outside in the Piazetta San Carlo. The group played a range of pieces from Japan, Germany, Ireland, Scotland and contemporary composers, as well as Suzuki standards. The pieces were conducted by a range of teachers; Irish teacher Úna ní Fhlannagáin conducted "Brian Boru's March"… and spontaneously took out the tin whistle for the finale, leading to a great response from the audience! The next day very tired little heads and parents made their way back to Milan and Ireland, inspired by having seen such high-quality performances from their peers, and feeling that they were members of an international harping community.
The most fulfilling consequence of attending the convention was the strengthening of relationships amongst the students, and also amongst the parents. It was lovely to witness the students become more familiar with one another and ultimately start having fun together, and as one parent commented "We couldn't have gone away with a nicer group of people!" The parents are already planning a reunion in Ireland later this summer – ostensibly for the good of the students, but there are rumours that good conversation and wine may be an incentive also… The students universally concurred that they had a brilliant time. They found it very fulfilling learning new repertoire for the convention, particularly "Ground in F with Variations" (Purcell), "Grand Canon" (Flavio Gatti), and "Triptic Dance" (Pierre Beauchant). Upon being asked what their most inspiring moment was, answers included: 'Ag foghlaim an rud céanna le páistí ó tíortha difriúla' ("Learning the same repertoire as children from other countries"), and "Seeing older kids perform and seeing I could be as good as them." They also found it very valuable to be exposed to new teachers; as twelve-year old Erin Mooney said, "It was cool meeting new teachers and seeing their style of music". Non-harp highlights included a visit to a chocolate factory, some shopping, and the lovely weather… not to mention choreographing a group hip-hop dance to commemorate the convention and performing it together for their teacher and parents on the final evening! They unanimously agreed that the peak moment, however, was a spontaneous waterfight they had with Gabriella Bosio after the finale concert in the town square. Ultimately, the proof of success lay in little 6-year-old Briain Mac Thomáis's question to his mother as he was falling asleep: "Mom, where are we going playing the harp next year?"