National String Quartet Foundation – Fundraising Gala
Presented by Cork Orchestral Society with the support of University College, Cork – 'Vanbrugh & Freinds' – Annual Fundraising Gala Concert in support of the National String Quartet Foundation. Introduced by Evelyn Grant.
Venue: Aula Maxima, UCC
Date: Saturday, 15 June 2019
Time: 7.30pm
This concert marks sixty years since the first performance of the RTE String Quartet Residency in summer 1959 and celebrates the remarkable legacy of exceptional musicians that flowed from that initiative.
Masterpieces by Tchaikovsky and Dvorak together with four spectacular arrangements for eight cellos, presented by nineteen of Cork's finest string players, including both internationally established artists and exciting younger talent.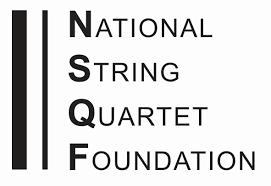 The National String Quartet Foundation creates and sponsors projects which bring live chamber music to audiences throughout Ireland. It is committed to supporting musicians who wish to explore and perform the string quartet repertoire.
The string quartet masterclass programme at the West Cork Chamber Music Festival was established by the Vanbrugh Quartet in 1999 and is now sponsored and managed by the Foundation. It has given over one hundred and fifty young Irish musicians a powerful and inspiring introduction to the world of professional chamber music. Many of those musicians are now appearing in the Foundation's concert programmes, including this gala.
The objectives of the National String Quartet Foundation are:
To serve the public through live performances of string quartet and other chamber music.
To encourage young Irish musicians through teaching and mentoring
To introduce young people to the diversity of classical music
To support Irish string players working in the field of string quartet and related chamber music performance
To promote knowledge, understanding and appreciation of string quartet and related chamber music repertoire.
To support substantial and innovative concert series at Ireland's major concert venues
To provide access to affordable, high quality concerts to communities throughout Ireland
To support Irish composers through commissions, workshops, performances and recordings
To support musical and cultural festivals in Ireland
To support musical and cultural ambassadors for Ireland overseas
For further information, please see nsqf.ie/fundraiser
If you can't make the concert on June 15, please consider making a donation to their 2019 Fundraising Campaign. The National String Quartet Foundation is a registered charity.