Joanna Crooks, President

Joanna Crooks founded the Dublin Youth Orchestra in 1981, the Irish Association of Youth Orchestras (IAYO) in 1994, and the Jeunesses Musicales Ireland in 1995, and devised the IAYO Festival of Youth Orchestras in 1996, and has played many key executive roles since then to ensure their consistent success. She has toured all over Europe, in Canada and in the USA with the youth orchestras, giving young Irish musicians invaluable international experience.
Adrian Petcu, Vice-President

Romanian-born violinist Adrian Petcu has lived in Cork and has been a Senior Lecturer at CIT Cork School of Music since 1978. His performing activities include solo, chamber music and concerto appearances, also membership of various prestigious orchestras and chamber music groups with whom he has toured throughout Europe, US, Japan, Australia and New Zealand. Other work includes adjudication in national and local competitions, Specialist Extern Examiner for under and post-graduate courses at RIAM, WIT and DIT, string staff development workshops around the country and masterclasses in Ireland and abroad. He has been on the Board of Directors at the National Youth Orchestra of Ireland and at Music Network.
His work with young people includes coaching national, regional and local youth orchestras. Among others he has tutored the string sections of both NYOI and JNYO, has conducted several regional youth orchestras and has most recently been involved with the CYChO project. Adrian has been Artistic Director at ConCorda Chamber Music Course for Young String Players and has been a member of teaching staff in many other chamber music programmes such as Aravon, Termonfeckin and other courses organized by the IAYO and by the Xenia Ensemble in Italy.
Board Members
Clare Daly, Chairperson

Clare grew up in Cork and went to Cork School of Music to learn bassoon when at school. She played in the National Youth Orchestra of Ireland from the age of 12 until 21. After graduating from TCD with a BA in Russian and Sociology she moved to London to work in arts administration. She worked for IMG Artists, an artist management agency, in their Orchestral Touring department for five years as a manager, in particular working with St Petersburg Philharmonic/Temirkanov, Oslo Philharmonic/Jansons and Sinfonia Varsovia/Menuhin. In 2002 she took up the post of Orchestra Manager for European Union Youth Orchestra. In 2006 she returned to Ireland she took up a maternity cover contact at IAYO as Director for 9 months. Clare then decided to move to UCC where she works in administration. In 2008 Clare was invited to join the Board of Directors of IAYO. She continues to play bassoon as an amateur, playing first bassoon and contra bassoon in Cork Concert Orchestra and Cork Fleischmann Symphony Orchestra . She is married to Stephane and they have two little boys – Yannick (8) and Jeremy (5).
Wendy Arlow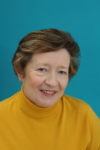 Wendy started her career in Financial Services and has worked in various roles over a 20 year period. Her career evolved into customer relations where she was responsible for overseeing the implementation of new statutory legislation within the organisation.
She served on the Irish Quality Association, Dublin Committee during the period 1993 to 1997 and was elected Chair of the Eastern Region during that period. She was actively engaged as a team member who developed processes to ensure compliance within her organisation and which ultimately led to her organisation achieving various quality awards within the IQA group.
After the birth of her third child in 1997, she decided to take a break from full-time work. However, when one of her children joined Dublin Youth Orchestras in 2006 she volunteered her services to DYO to undertake various roles ranging from catering to orchestra supervision and ultimately becoming Office Administrator.
In 2010 she was appointed General Manager of DYO, and is responsible for overseeing the operational activities of the 4 orchestras comprising approximately 400 players, professional musicians and approx. 50 regular volunteers. This role is varied and covers all areas including event management of all public performances, tour preparation, child protection, Garda vetting, legal compliance, data protection, PR and liaison with volunteers, players & parents.
Carol Daly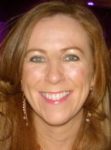 Carol Daly received her early music education with Cork ETB School of Music in her native Ballincollig, where she was a multi scholarship and prize winner as a young student and was leader of her local community orchestra and of the County Youth Orchestra. She continued her violin studies at Cork CIT School of Music achieving Diplomas in Violin Performance and String Teaching. An honours graduate of UCC where she read Music and English, she was appointed Head of Music at the newly opened Glanmire Community College in 1997 which saw her actively develop a popular, vibrant and positive music tradition in the college.
From 2003 to 2009, Carol enjoyed a busy career as Deputy Principal of Cork ETB School of Music at a most exciting and dynamic stage in its development. Carol was the founding conductor of Cork ETB Youth Orchestra and brought them to the National Stage at the Festival of Youth Orchestras in 1998, 2003 and 2007. Still an active performing musician, she is in much demand as a violinist, participating in many chamber and orchestral ensembles throughout the country, featuring on CD recordings and television broadcasts. In her current role as Principal of Cork ETB School of Music, which touches the lives of almost 3,000 children in the Cork area, she is at the cutting edge of many exciting initiatives and passionately promotes music education – in particular group music making and performance as arenas for nurturing positive emotional well-being in young people. Carol is delighted to continue her association with IAYO.
Martin Mc Ginley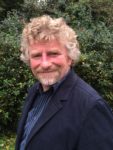 Martin Mc Ginley is music development manager with the Donegal Music Education Partnership, part of the Donegal Education and Training Board. The DMEP runs mostly 1-to-1 music tuition for around 450 children and young people and has ten performing groups. These include the Donegal Youth Orchestra, the Donegal Chamber Orchestra and Donegal Junior Strings.
Martin has served on a number of boards in the north-west, including those of the Millennium Forum in Derry, the Walled City Music Festival (Derry) and Django Sur Lennon (gypsy jazz festival, Ramelton). He edited the Derry Journal and the Donegal Democrat and was a television and radio reporter with BBC NI. He's a well-known traditional fiddle-player and teacher and a lifelong learner with Grade 8 violin in his sights.
Mona McMahon
Mona McMahon is a violin and piano graduate of the Royal Academy of Music, London. She has wide experience of professional playing, having performed as a member of the National Symphony Orchestra, the RTE Concert Orchestra, the Ulster Orchestra and many other performing ensembles.
Mona is the Assistant Principal of the City of Dublin ETB Music Centre in Kylemore College and is the director of the Kylemore College Orchestra and Kylemore College String Ensemble. She has recently established Kylemore College Classical Strings for the younger players in the Music Centre. Mona has also established strong links between the CDETB Music Centre and local national schools, St. Michael's and St. Raphael's. Mona teaches the violin to all classes from Second to Sixth Class in both schools, with each class receiving one lesson a week. From these classes, children are invited to attend small group classes in the CDETB Music Centre, progressing on to individual classes. Many of these children have taken ABRSM exams, achieving distinctions in many cases.
Mona was the producer of concerts in aid of the Chernobyl Children's Appeal in the Helix from 2003-2011. These concerts, along with two CDs which she produced, raised over €70,000 for the charity. The two CDs consisted entirely of youth orchestras and youth choirs performing a wide variety of music.
With Mona as director, Kylemore College Orchestra was twice awarded the Artistic Achievement Award at the annual IAYO Festival of Youth Orchestras.
Brian Murray

Brian Murray is a Lecturer in Physical Chemistry in ITT Dublin involved in teaching full-time and part-time undergraduate and postgraduate students in research and in collaboration with industry for over 30 years. He hosted the inaugural "SciFest", a science fair for second-level students in the Dublin area in ITT Dublin in 2006: this is now a national & cross-border event in 15 colleges with over 2000 entries annually.
As a parent and administrator in Fingal Youth Orchestra from 1999 to 2016, Brian helped build up its profile through national and international trips and secured arts awards in the county and at the IAYO Festival of Youth Orchestras. He feels his experience complements that of professional musicians and administrators on the IAYO board.
Other relevant experience in the voluntary / non-for-profit company sector includes his roles in the Institute of Chemistry of Ireland; a member since 1988 and a director since 2007: as President (2011-13) he secured and organized the General Assembly of EuChEMS (the European Association for Chemical and Molecular Sciences) for Dublin in 2012.
Ed Phelan

Ed is currently studying for a BA in Music, in BIMM Dublin. With a Diploma in Professional Musicianship from DIT already under his belt, he has been involved in all aspects of the music industry. Ed has worked with many artists and function groups, regularly recording and performing around Ireland. When he is not doing this, he will be found playing in the pit for musicals and theatre productions all over the country.
A guitarist by trade, Ed has studied and played a variety of genres, including classical, jazz, rock, pop, funk and electronic. In 2015, he founded the music tuition website EdPhelanGuitar.com, through which he offers private lessons to students of all standards, as well as teaching in music schools.
Ed hopes to use his industry knowledge gained from actively performing and teaching to bring his passions of both music and education to the IAYO.
Marianne White

Marianne White began her musical studies in Dublin as a violinist in the Young Dublin Symphonia. She later became involved with the Donegal Youth Orchestra and in university the UCD Symphony Orchestra. A graduate of UCD in 2002 with a Bachelor of Arts Degree in Music and French, she continued her studies in musical education in Trinity College Dublin by achieving a Higher Diploma in Education. Her passion lies in the development of youth orchestras and voluntary music groups.
In her work as a post-primary school music teacher she has undertaken trips abroad with school orchestra, conducted on television, conducted the Orchestra in the National Concert Hall on several occasions and participated in competitions and feiseanna around the country.
A qualified piano teacher, Marianne founded the Portmarnock School of Music in 2010, a school of music which provides music tuition in Portmarnock and the surrounding areas in North County Dublin. She has been a session musician with bands. She is an organist with the Burrow Singers in St Anne's Church in Portmarnock. She is a professional pianist and has held many residencies in the Dublin area. She also holds a Diploma in Legal Studies. She was elected to the board of the IAYO in 2014.