Welcome to iayo.ie
The Irish Association of Youth Orchestras is the all-Ireland resource organisation for youth orchestras in Ireland.
OURchestra Summer Camp 2019 | Applications Open
OURchestra Summer Camp 2019 will take place in Esker, County Galway from 1 – 5 July 2019.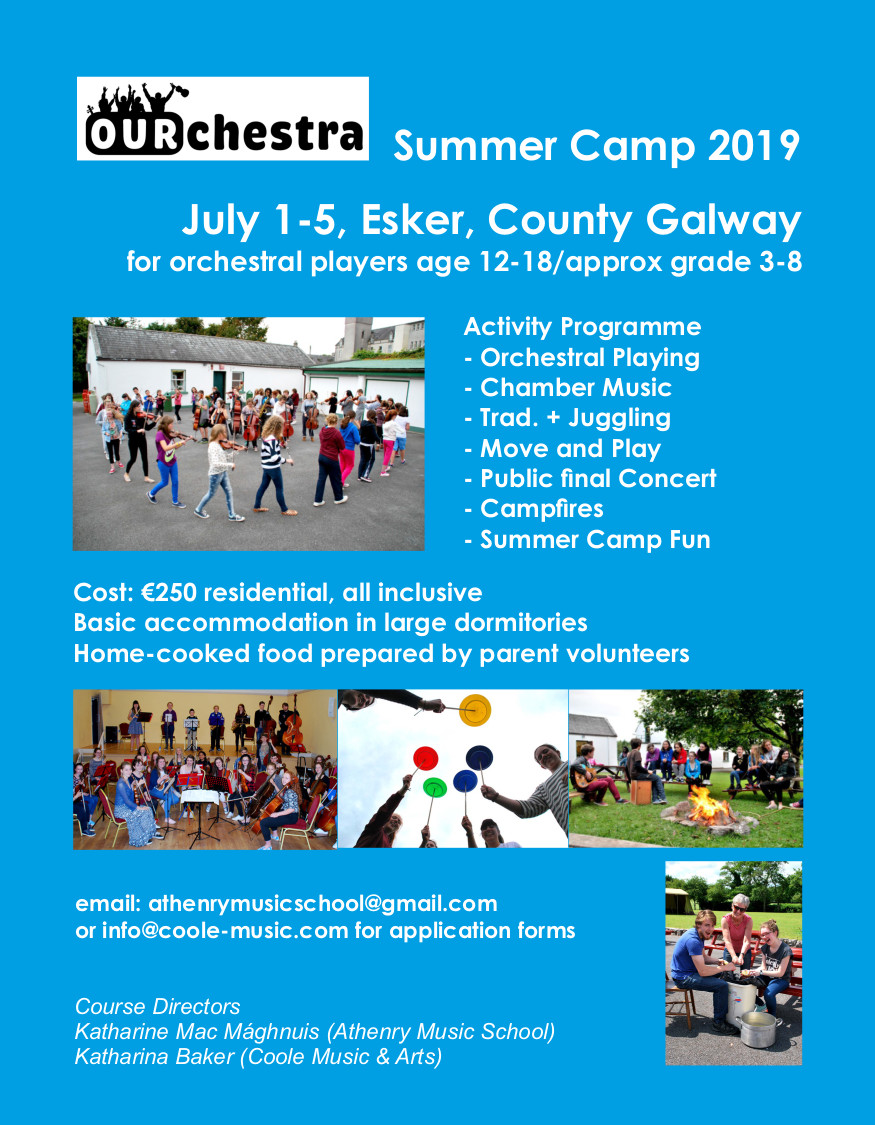 OURchestra Summer Camp is a fun, interactive week-long residential music camp based in Esker Youth Village, Galway, blending music theory and practice with a host of other techniques. It's an orchestral programme for players ages 12-17 years of age of grade 3-8 standard.
The course involves orchestral playing, chamber music, choir singing, improvisation, juggling, variety shows and will end in a final public concert.
The course is €250 which is an all-inclusive, residential cost.
Contact athenrymusicschool@gmail.com or info@coole-music.com for more information.
ESTA Ireland – European String Teacher's Association Re-Launches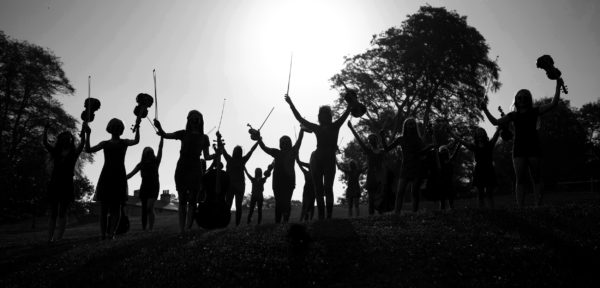 ESTA Ireland – the European String Teachers' Association Irish Branch – has re-launched with a full-day workshop on Sunday, 3 March with Diane Daly from the Irish Chamber Orchestra at the University of Limerick.
The ESTA Ireland team are a core group of three violin / viola teachers who believe that string teachers have much to learn from and share with each other and are looking for other string teachers to join their network.
You can sign up to become an ESTA Ireland member for €40.
For further information and updates, please see the ESTA Ireland Facebook page.
Eurochestries International Festivals
Eurochestries Festivals offers young musicians, from 15 to 25 years old from different countries, the opportunity to meet and play together in many countries across the world. During these festivals, the orchestras, choirs or chamber music ensembles perform in concert with their own repertoire while also participating international orchestras created with every attending musician.
Several Eurochestries festivals will be organized in 2019 in countries such as France, China and Brazil.
Music Network Music Capital Scheme 2019

Music Network has announced that there will be €245,000 available to musicians, ensembles, bands and orchestras to purchase instruments under the Music Capital Scheme 2019.
The Music Capital Scheme, supported by the Department of Culture, Heritage and the Gaeltacht and managed by Music Network, provides funding for the purchase of musical instruments to both non-professional performing groups/ensembles and individual professional performing musicians. There are two strands of awards available:
Music Capital Scheme 2019 Award 1: Non-Professional Performing Groups;
Music Capital Scheme 2019 Award 2: Individual Professional Performing Musicians;
The deadline for receipt of applications is 2pm, Thursday, 21st March 2019. Please note odd closing time.
Irish Association of Youth Orchestras Youth Ensembles' Performances 2018
The Irish Association of Youth Orchestras, in association with a number of Irish music organisations, have had an extremely busy and enjoyable year with approximately 700 young musicians and performers taking part in performances across Ireland. This video represents a snapshot of all the hard work and dedication of those involved in these performances.
ConCorda Chamber Music Course for Strings 2019 | Applications Open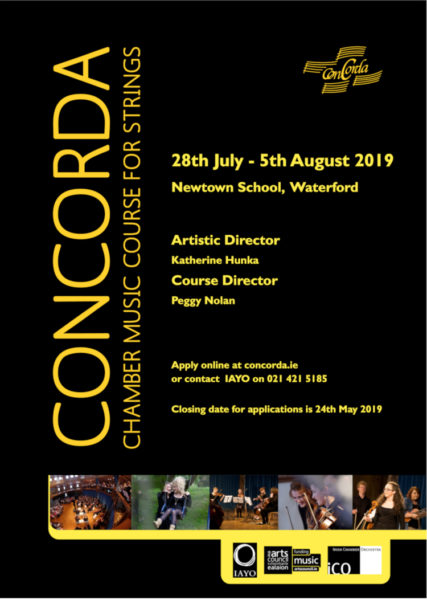 We are pleased to announce that applications for ConCorda 2019 are now open. ConCorda will be hosted in Newtown School in Waterford from Monday, 28 July – Wednesday, 5 August.
ConCorda is an exciting international chamber music course for young string musicians supported by the Irish Association of Youth Orchestras, the Irish Chamber Orchestra and The Arts Council. The course offers an inspiring and transforming musical experience in chamber music, string orchestra and music improvisation. Participants study chamber music intensively at a high level with a staff of Irish and international tutors.
Closing date for applications is Friday, 24 May 2019.