Welcome to iayo.ie
The Irish Association of Youth Orchestras is the all-Ireland resource organisation for youth orchestras in Ireland. Read more . .
Esker Festival Orchestra Concert Dates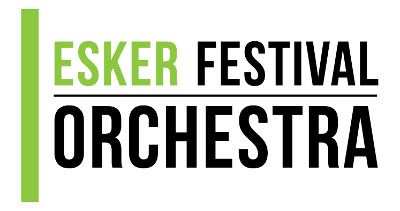 Wednesday July 8 1pm – Free Outdoor Concert of Film Music in Galway City.
Conducted by Paul McCusker in collaboration with the Galway Film Fleadh
Friday July 10 1pm – Lunchtime concert in Aula Maxima in NUI Galway.
Friday July 10 8pm – Redemptorists Church, South Circular Rd. Limerick.
Saturday July 11 8pm – Curtis Auditorium, Union Quay Cork.
Presented in Association with CIT Cork School of Music
Sunday July 12 7pm – St. Ann's Church, Dawson St. Dublin 2.
You can read more about the Esker Festival Orchestra on their website.
Kodály Society of Ireland Summer Course
The Kodály Society of Ireland, in association with St. Patrick's College, Drumcondra, offers a unique training opportunity in music from the 6-10 July 2015.
The faculty will comprise four Hungarian teachers, all of whom are expert teachers in the areas of solfège, conducting, teaching methods and choral singing. The faculty will also be joined by Irish specialists in music and music education. You can learn more and apply to take part here.
Festival Website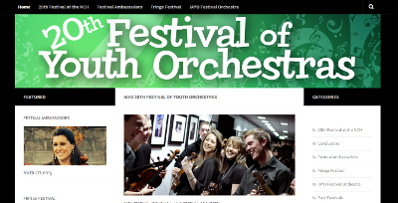 You can now visit our website  that was created especially for the 20th Festival of Youth Orchestras. Here you can find information on all of the orchestras that participated, interviews with all of our Festival Ambassadors and much more.
National Youth Orchestra of Ireland Summer Proms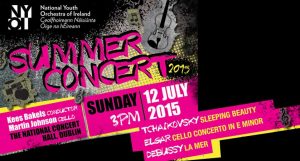 Join the 104-strong National Youth Orchestra of Ireland, conducted by internationally renowned Dutch conductor Kees Bakels in the National Concert Hall on July 12.
Repertoire: Debussy (La Mer), Elgar (Cello Concerto), Tchaikovsky (Sleeping Beauty).
Critically acclaimed cellist Martin Johnson joins the orchestra as soloist for Elgar's cello concerto.
Tickets cost €18 / €15 and can be purchased from the NCH.
Irish Youth Wind Ensemble
Irish Youth Wind Ensemble performing at the 20th Festival of Youth Orchestras, National Concert Hall Dublin, February 7 2015
Musescore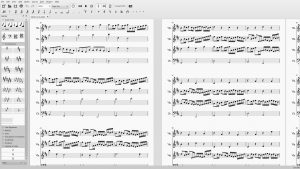 MusescoreMuseScore Music notation software has been officially released as version 2. You can create full scores, extract parts and transfer to and from other notation programmes. Download and find instructions and help here. There is also a new book on Musescore with easy to follow instructions on writing sheet music for beginners or advanced level.