Welcome to iayo.ie
The Irish Association of Youth Orchestras is the all-Ireland resource organisation for youth orchestras in Ireland. Read more . .
20th Festival of Youth Orchestras

Preparations are well under way for the 20th Festival of Youth Orchestras at the National Concert Hall on February 7th 2015. The running order for the concerts are as follows:
Afternoon performance – 3pm
Cork ETB School of Music Junior Orchestra
Young Orchestral Pops Orchestra
IAYO Festival Orchestra
Irish Youth Wind Ensemble
Evening Performance – 8pm
Coole Music Youth Orchestra
St Canice's NS Senior Orchestra
ConCorda
National Youth Orchestra of Ireland
You can purchase tickets from the NCH website.
Festival Website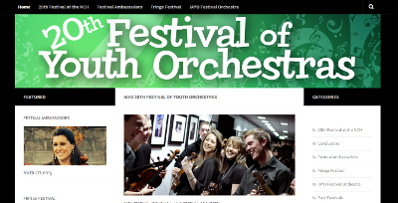 Our website dedicated especially to the 20th Festival is now live! You can read all about the orchestras playing, the conductors, composers and festival fringe events.
Festival Ambassadors
The Ambassadors section of our new website features all thirteen of our Festival Ambassadors. Here you can read full interviews with each person where they discuss their early musical careers and experiences with the Festival to where they are now. Our next two Ambassadors are Gary Curtin and David Wallace.


Festival Fringe Events
Carlow Junior Orchestra with Wexford School of Music

The Carlow Junior Orchestra and the Wexford School of Music Dynamix Orchestra will perform together on Sunday 1 February at 3.30pm in Askea Parish Centre, Carlow. This event will also be the start to the 25th Anniversary Celebrations of Carlow College of Music. It is an informal collaboration, but donations would be most welcome to cover running costs.
Belvedere College with St Agnes'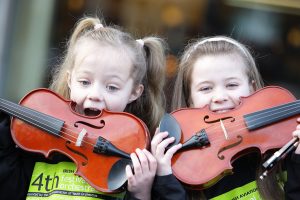 Belvedere College will play host to orchestras from St Agnes' and St Ultan's on Tuesday 3rd February at 11 am. They will play in the O'Reilly theatre and it is a free concert aimed at the pupils of the schools attending. This is an annual event that has been running for a few years as a way to integrate fellow primary schools.
Young Dublin Symphonia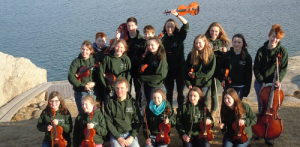 Young Dublin Symphonia will be holding a lunchtime concert at 1pm on 19 February. It will take place in St Anne's Church, Dawson Street and will be free of charge, but there will be an option of a donation to be made towards running costs.
So far the proposed repertoire is as follows:
La Folia (Vivaldi)
Ancient Airs and Dances, suite no 3, 2 movements (Respighi)
Lament (Tormod Tvete Vik)
Symphony no 23, 4th movement (Haydn)
Concerto for two cello's rv513, 1st movement (Vivaldi)
Casa del Diavolo 1st movement (Boccherini)
Haydn's Symphony no 23 has been arranged by Sandra Dackow in dedication to the memory of Agnes O'Kane, the founder of IAYO.